How to Get to Epic Charters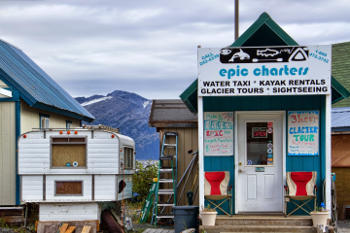 Epic charters is located on lot 11, Harbor loop road in Whittier Alaska, approximately one hour from Anchorage, and about half an hour from Girdwood.

There are few road sings however, so we are the 1st business on the left after you cross Whittier Creek (The only bridge in town). Just look for the Epic Charters signs on your left once you enter Whittier.
How to get to Whittier By Car
From Anchorage, head south on the New Seward Highway and take the turn-off to Whittier/Portage Valley after about 50 miles (about 45 minutes).

From Portage Valley (also called "Bear Valley") you can connect to Whittier via the longest highway tunnel in North America (13,300 feet or 2.5 miles). It opened to vehicle traffic on June 7, 2000 after extensive conversion from a World War II railroad tunnel.

This tunnel is open at scheduled times in each direction. Usually the tunnel is open every hour on the half hour coming into Whittier (7;30, 8:30, etc) and at the top of the hour leaving Whittier (7:00, 8:00, etc). However, its always a good idea to double check the tunnel schedule for the occasional changes.
By Train
You can also reach Whittier on the Alaska Railroad. Check their schedule below.
By Bus/Shuttle
There are a lot of Bus and Shuttle companies that operate between Anchorage and Whittier, and you should be able to find plenty of options available with a google search. Visit their websites for more information on pricing and schedules, or give us a call for our current recommendations. Service should be approximately an hour to an hour and a half.