Our Vessel - The Fera Mare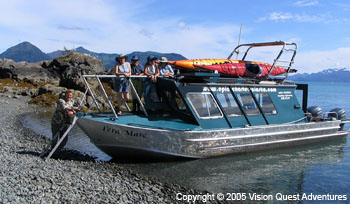 The 38-foot Fera Mare is a 12 passenger Coast Guard inspected kayak hauler. The vessel was custom built in 1999 specifically for moving kayakers and their kayaks from the dock directly to the beach. The vessel is able to land on the beach and through bow doors, passengers are able to walk out onto the beach and keep their feet dry. (Click Here) to view a video (3MB File Size) of a beach loading of the Fera Mare.

The custom roof rack and padded rollers makes loading and unloading kayaks a fast, efficient process. The aluminum vessel is powered by twin 200 hp, 4-stroke, environmentally friendly, Yamaha outboards, and cruises smoothly at 30 knots.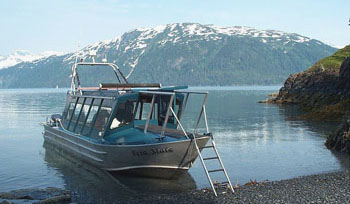 The fully enclosed and heated cabin is fitted with large cushy seats so you can relax and enjoy the ride. Passengers have quick access to both the fore and the aft deck via the main cabin. Both the fore and aft deck are spacious to allow plenty of access and viewing room for your entire party.
Whether your preference is for sightseeing, photography, kayaking adventure, or anything else, with the comfortable, steady Fera Mare, we have provided seven sea-sick-free seasons of adventures in Prince William Sound and look forward to many more.
---
Site Design by Alpha Internet Marketing
Copyright © 2005 Epic Charters