About Epic Charters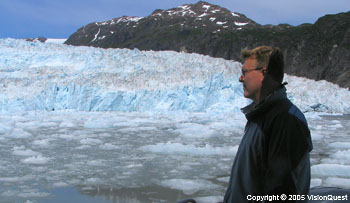 Epic Charters is owned and operated by Brooke Whip and his wife Christina. Brooke Whip was born and raised in Alaska. He grew up commercial fishing with his father and by the age of 16, was skippering boats for other people. Fishing paid for a degree in Marine Biology from Western Washington University. After building his first charter boat Brooke made his way to Prince William Sound, where he has been exploring ever since.
Brooke and his wife Christina are both lifelong Alaskans and first met and dated in high school. They reunited at a friendís wedding reception in Whittier and after a short engagement were married in Belize in 2005. In addition to being an attorney, Christina now contributes to the smooth running of Epic Charters. Brooke and Christina are both Certified Dive Masters and enjoy scuba diving, golf, traveling, and spend their winters abroad.
The newest addition to the EPIC realm is Captian in training Obadiah Jenkins. A transplanted Alaskan resident originally from small town Georgia. Obadiah has explored and fallen in love with the Prince William Sound area as a volunteer USFS Kayak Ranger with the Glacier Ranger District. His background in whitewater kayaking prepared him well for a life on Alaska's water, snow, and ice and his life is now shared between Alaska Pacific University, where he is graduating with a degree in Outdoor Studies and minoring in Environmental Science, the Alaska Range where he volunteers with the Talkeetna Ranger District as a Mountaineering Ranger on Denali, and Prince William Sound for the remaining months of Alaska's EPIC summer and fall.
---
Site Design by Alpha Internet Marketing
Copyright © 2005 Epic Charters